Rubber Compression Molding
Shalimar utilizes the rubber compression molding process to produce a range of precision rubber molded components. The benefits of rubber compression molding are realized in a number of areas from low to medium volume applications and for some specialty high volume components. Products produced from Shalimar proprietary compression molding process can be designed to be high precision, low waste, and near flash-less out of the mold.

Our team's experience with rubber compression molding and other rubber manufacturing methods allows us to help our customers determine if compression molding is the correct process for the application.
Rubber Compression Molding Process Description:
The rubber compression molding process begins with a piece of uncured rubber which has been performed to a controlled weight and shape. This preform is placed directly into the rubber mold cavity prior to mold closure. As the mold is closed, the material is compressed between the plates causing the compound to flow to fills the cavity. The material is held in the mold under high pressure and elevated temperature to activate the cure system in the rubber compound (rubber is vulcanized). The cycle time is established to reach an optimal level of cure. At the end of the cycle, the parts are removed or ejected from the cavities and the next cycle begins.
Advantages of Rubber Compression Molding:
Tooling can be less complex and lower cost to construct
Lower percentage material runner scrape vs. traditional injection or transfer molding
Process is suitable from most elastomers and cure systems
Disadvantages of Compression Molding vs. other rubber molding methods
Labor for preforming material can add cost
Cycle times may be longer
For more information on the rubber and plastic design processes please visit our rubber design section.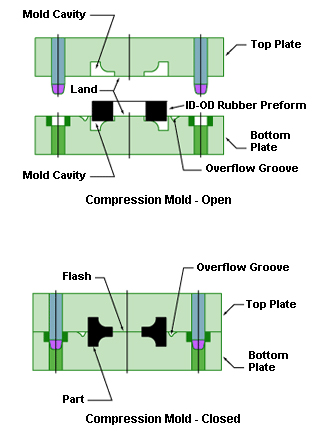 Rubber Compression Molding Steps:
Uncured rubber is preformed to control weight, shape and specification
Rubber preform is placed into the mold cavity
Rubber molded is closed compressing the rubber to fill the mold's cavities
Mold remains closed under pressure and temperature to reach optimal cure
Compressed rubber parts are removed from the mold and the process is ready to begin again