Rubber Diaphragms, Reinforced Rubber Custom Diaphragms
Shalimar provides its customers engineered solutions for rubber diaphragm applications across many industries. Shalimar's process for molding rubber diaphragms allows for custom configurations, versatile materials, integration of reinforcement in the rubber compound and the ability for in-mold bonding of metal or plastic substrates. Our rubber diaphragms are custom designed for each unique application factoring in fluid interactions, pressures and vacuums, mechanical requirements and dynamic life to ensure performance requirements are achieved.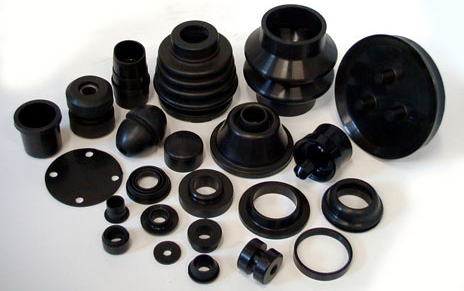 Benefits and Properties of Shalimar's Rubber Diaphragms
Diaphragm Material Types – Shalimar's rubber diaphragms can be made in a wide variety of materials depending on the medium to be sealed. Common materials include Nitrile, HNBR, EPDM, Fluorocarbon, Neoprene and Silicone. Shalimar also offers a line of specialty compounds designed to meet industry specific requirements such as FDA, NSF 61 (potable water) and USP Class VI (non implantable medical devices).

Fabric Reinforced Diaphragms – Shalimar's rubber diaphragms can be integrated with reinforcing materials to improve application performance where durability, changing pressures and vacuums are applicable requirements. Utilizing a layer of fabric, a thin-walled diaphragm can withstand high pressures while maintaining its flexibility and responsiveness to pressure variations. Common reinforcing materials include nylon, polyester and silk; while a Nomex fabric is commonly used for high temperature applications.


Shalimar's Molded Rubber Diaphragms and Configurations
Molded Diaphragms – Shalimar designs and manufactures custom diaphragms for a large range of applications including; pneumatic control valves, actuators, solenoids, air regulators and various types of pumps. Shalimar's diaphragms are designed for your particular application and can include features such as: reinforcing materials for high pressures or vacuums, reduced wall thickness (thin wall) for low pressure applications, rubber to metal (or plastic) bonded assemblies and the integration of valves designed to seal up to a pressure threshold before allowing for the system to vent or leak at a specific rate.

Rubber to Metal Bonded Diaphragms – Shalimar can bond metal or plastic substrates to our rubber diaphragms to achieve a one piece assembly. Benefits of bonded inserts include: durability, ease of assembly, minimized assembly costs and reduced likelihood of leak paths caused by traditional assembly methods. Shalimar has the ability to either mechanically or chemically bond a substrate to a rubber diaphragm depending on the design and function of the component, providing our customers with a complete custom diaphragm solution.
Shalimar's Rubber Diaphragm Design Expertise:
Our team has extensive experience in designing rubber diaphragms for a variety applications. Shalimar Engineers can assist our customers with:
Engineering and Design Support
Component Design Review for Feasibility and Manufacturability
Rapid Prototyping and Application Testing
Material Selection and/or Custom Compound Development