Convoluted Bellow
Shalimar bellows and convoluted rubber dust boots are versatile seals used in a wide range of applications to seal dust and other environmental elements in applications with a stroke or designed range of motion.

Rubber bellows and convoluted dust boots can be custom designed for the application and are available in a range of rubber materials including FKM, PU. HNBR, Chloroprene EPDM. Silicone TPE. etc.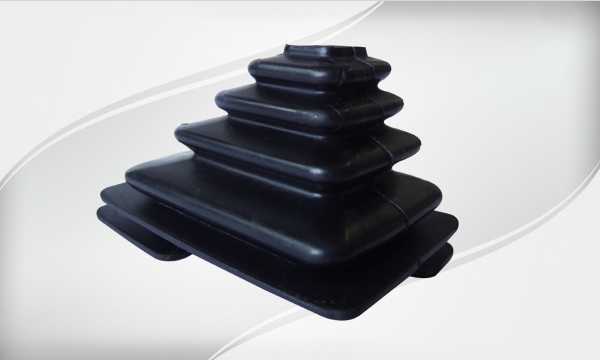 Rubber Bellows Materials:
Shalimar Rubber Bellows and dust boots are available in a range of performance rubber, TPE, and silicone materials specifically engineered for a variety of applications. Customers can select from our current material catalogue or we can develop a new material for your unique application. The more common materials utilized for below applications are as follows:
RUBBER COUMPOUNDS TYPES AND REFERENCES
Material
Abbreviation
Temperature
Range (dry heat)
Aging
Weathering,
Ozone
Resistance to
Oil & Grease
Water Swell
Resistance
Flex-Fatigue
Economy of
Material
Material Notes
Chloroprene (Neoprene)

CR

-40°C to 120°C

Good

Good

Average

Very Good

Good

exposure to refrigerants, can be compounded for FDA applications

Nitrile


NBR

-30°C to 100°C

Poor

Very Good

Good

Good

Very Good

excellent resistance to petroleum based oils and hydrocarbon fuels

Ethylene-Propylene

EPDM, EPM

-50°C to 140°C

Very Good

Poor

Very Good

Good

Very Good

Silicone

VMQ

-50°C to 230°C

Very Good

Average

Very Good

Very Good

Average

medical and aerospace applications

Fluorocarbon

FKM

-10°C to 190°C

Very Good

Very Good

Good

Average

Poor
Rubber Bellows Structure: Connectors
Rubber Bellows Connectors function as the interface between the convoluted bellows region of the boot and the assembly (application) and are used to secure the two ends of the bellow to the assembly. Connectors are highly customized to unique application interfaces and can be designed to include holes, mechanical locks, clamping surfaces and many other features. A sampling of these designs are detailed as follows:

Rubber Bellows Structure: Breather Holes and Assembly Interfaces
In many applications bellow ventilation is a critical design feature to prevent pressure or vacuum conditions when the rubber bellow is actuated in the application. Ventilation can be accomplished in a number of manners, but typically is accomplished with the addition of breather holes in the bellow. For harsh environments, Shalimar has a range of filters that can be molded into the assembled bellow to help prevent the introduction of large foreign particles into the application. In addition to breather holes Shalimar also offers various types of custom assembly interfaces as shown below.
Recent Production Examples or Pre-Engineered & Custom Rubber Bellows