Rubber Gaskets, Custom Gasket, and Molded Gasket Seals
Shalimar provides its customers engineered solutions for rubber gasket applications across many industries. Our rubber gaskets are custom designed for each unique application factoring in temperatures, fluid interactions, pressures and vacuums, mechanical requirements and dynamic life to ensure performance requirements are achieved. Shalimar's custom gaskets have been used in the automotive, medical, plumbing, food/beverage and general industrial segments.

Benefits and Properties of Shalimar's Rubber Molded Gaskets
Gaskets Mechanical Seals - Shalimar's rubber gaskets can be designed and manufactured in a range of materials and configurations. Common materials include Nitrile, EPDM, Fluorocarbon, Neoprene and Silicone. Shalimar also offers a line of specialty gasket compounds designed to meet industry specific requirements.

PSA Integration - Shalimar's rubber gaskets can be integrated with pressure sensitive adhesive (PSA) to facilitate assembly. Offering a full line of pressure sensitive adhesives, Shalimar can support our customers in identifying the most appropriate PSA type for your application.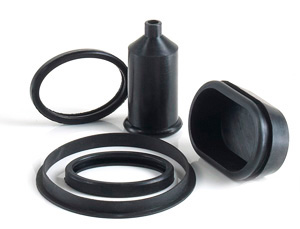 Example: Molded gasket with PSA – Automotive (under hood) application. Constructed with an EPDM gasket material and PSA; this gasket is used to provide insulation while minimizing noise and vibration. Picture (left) shows gasket as assembled, and PSA gaskets on applicator sheet.
Shalimar's Custom Rubber Gasket Design Expertise:
Our team has extensive experience in designing rubber gaskets for a variety applications. Shalimar Engineers can assist our customers with:
Engineering and Design Support
Component Design Review for Feasibility and Manufacturability
Rapid Prototyping and Application Testing
Material Selection and / or Custom Compound Development