Custom Rubber Seals - Molded Rubber Seals
Shalimar Engineered Rubber Inc. is an industry leader in the design and manufacturing of custom rubber sealing devices for both static and dynamic applications. Our rubber seals can be manufactured in a variety of shapes, sizes and elastomers, depending on your specific application. We specialize in the development of engineered molded rubber seals for the Original Equipment Manufactures (OEM) segment. Shalimar's high performance rubber seals are utilized by the automotive, plumbing, medical, defense, food, and general industrial markets to provide the rubber seals necessary to make their respective products function.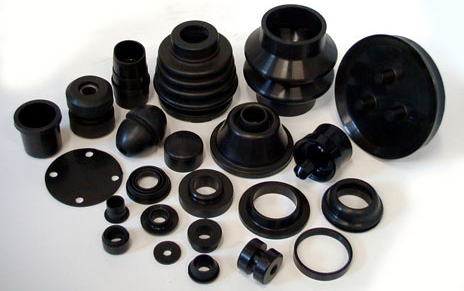 Custom Rubber Seals, Certifications, Manufacturing and Materials:
Custom Rubber Seals Certifications - Shalimar offers a variety of specialty molded rubber seals in elastomers such as; NSF certified compounds for rubber seals used in plumbing applications. USP class VI certified seals for the medical industry and FDA compliant elastomers for the food and beverage industries. As well as high or low pressure exposure for hydraulic sealing applications and seals designed to meet high and low temperature extremes with varying chemical exposures seen in the military and automotive industries.

Custom Seals Materials - Custom rubber seals and elastomeric seals can be designed and manufactured in a range of materials and configurations including thermoset rubber (ie. EPDM, NBR, FKM), thermal-plastic rubber (TPR) and elastomers to reinforcing substrates including rubber bonded to metal or plastic, or TPR bonded to metal or plastic. Also offering internally lubricated custom seals for high wear dynamic applications.

Rubber Seals Manufacturing - Our ISO/TS 16949 certified manufacturing facilities feature computer-controlled rubber injection, rubber compression, rubber transfer molding and liquid injection silicone molding capabilities. Our team can assist you in identifying the best material and configuration for your custom seal requirement.
Shalimar's Custom Rubber Seal Design Expertise:
Our team has extensive experience in designing custom seals for a variety applications. Shalimar Engineers can assist our customers with:
Engineering and Design Assistance
Stretch & Squeeze Calculations
Seal Gland Design
Material Selection
Application Simulation
Example Component Test Rig Plumbing & NSF Products