Custom Bellows » Custom Rubber Dust Boots, Custom Molded Rubber Bellows
Shalimar bellows and convoluted rubber dust boots are versatile seals used in a wide range of applications to seal dust and other environmental elements in applications with a stroke or designed range of motion. Rubber bellows and convoluted dust boots can be custom designed for the application and are available in a wide range of material types.
Rubber Bellow Design Expertise
Our team has extensive experience in designing rubber bellows for a large range of applications. Shalimar Engineers can assist our customers with:
Selecting the best rubber material for application
Developing custom material formulations for demanding applications
Optimizing the design to achieve optimal stroke
Non-linear FEA analysis for design enhancement
Bellow design ratios for folding
Choosing the most appropriate connector style
Designing features to improve product performance
Design review for feasibility and manufacturability
Quick Turnaround Times, & Low Cost Tooling
Shalimar has invested in master bellow molds and several pre-designed quick tooling systems for prototyping components. Our extensive knowledge working in the custom bellow industry combined with our investment in speed and efficiency tool sets, allows us to realize custom bellows in as little as 1 week. Generating an actual production representative prototype allows our customers to see and test the custom bellow before it goes into production.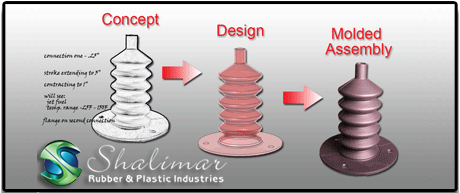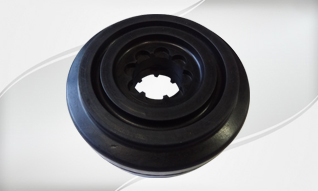 FEA (Finite Element Analysis)
Using FEA 3-D modeling software Shalimar is able to test a bellow in a simulated environment, thus allowing us to predict design shortcomings, failure and stress points, tear, abrasion, temperature, displacement velocity, and pressure qualities. The net result is a full analysis of how the custom bellow will interact in its real world operational environment. Ultimately leading to a more robust production bellow that can eliminate or overcoming product flaws that may have otherwise went unnoticed.
Prototype Testing & Quality Control
Once a bellow prototype has been produced Shalimar can assist with the real world environment test; producing temperatures, pressures, dynamic motion, chemical interactions and stroke that the custom bellow will be exposed to in its actual operational environment. Finally, our quality control department will insure the prototype meets or exceeds the design specifications and can be put into full production.


Dynamic simulation in a temperature controlled environment
Benefits of Custom Molded Bellows Designs
Custom made solution for application specific requirements
Strict control of production uniformity
Product Branding Available, Bringing Market Awareness
Product Flexibility
Material Certifications: FDA, NSF, UL, MIL-Spec, USP Class VI